Wheter you are looking for a website loaded with dollardays products or simply an easy way to sell their products on eBay, Amazon or even from your own website, wholesale2b.com can help you.

DollarDays is the premiere online wholesaler and closeout company that helps small businesses to compete against larger enterprises by offering more than 225,000 high-quality goods at prices close to those at which large chains purchase.

Dollardays offers a support system for entrepreneurs and helps small stores to compete with big chains on both selection and price. Small business owners can order their goods - ranging from decorative items and clothing to personal care products and greeting cards -- as well as employ various proprietary technologies to instantly create seasonal departments and marketing materials.

DollarDays prides itself in supplying existing businesses as well as helping entrepreneurs open new stores and businesses.


Get your own Dollardays website that delivers results!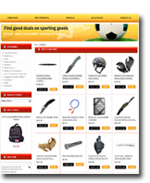 Why waste time loading products to a website when you can get a fully automated solution with wholesale2b. We will require 1 business day to complete your website. All you need to get started is choose a domain name!
A domain name of your choice
One email account
Hosting on our dedicated servers
Daily inventory updates
Add/Remove suppliers anytime
Our Admin Dashboard V2.0
Download Dollardays product descriptions and images

Gain immediately access to all of Dollardays product desacriptions and images in a clean CSV or TAB Delimtied file.
We can also create custom feeds if you wisht to sell Dollardays products on marketplace sites such as Amazon, Google, Bonanza, TheFind, Shopzilla and many more or we can create custom feeds so you can import Dollardays products to your own shopping cart.
XML format
Excel
OSCommerce
ZenCart
X-Cart
OpenCart
TurboLister
Apply price markups
Bing
Google Base
Shopzilla
TheFind
Amazon
Bonanza
ShopZilla
...any other format of your choice
We can still help you with shipping even if you do not have a reseller account with Dollardays. When you receive a payment for an item you sold (e.g. on Amazon), simply login to your wholesale2b account and place an order for the item you sold. Just enter your buyer's shipping address during the checkout and we will handle the order with the supplier hassle free.
No Tax ID required since we handle orders for you
Blind dropship on all orders
Orders are processed the same day hassle free
Tracking your shipments with UPS/Fedex
We do not show our name in your shipments
We do not show your price in your shipments
Your customers will never know we exist