What is Wholesale2b affiliate program?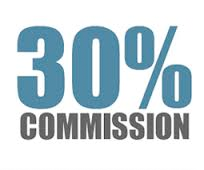 Our Free Affiliate program will help you earn money every month simply by referring our services to others. You can refer us to your friends or you can add a banner to your website or place positngs on twitter and facebook to spread your affiliate URL.
With our affiliate program you can easily earn a regular monthly income by referring us to others from your website, from social media and from your email list or search marketing activities.
When you place our banners and text links on your site, or promote our dropship services via email or search engines, we reward you with a very nice referral fee. In fact, we don't pay you only 1 time, but each month for as long as your referral remains a member!
This means you can build up a large monthly payout fairly quickly, even by referring just a few new people every month.
---
How Much Money Can I Make?
Most affiliate programs from other companies will only pay you a one time commission fee.
With the Wholesale2b affiliate program, you get deposits every month straight to your Paypal account for every person you refer to us, for as long as they remain active.
It's simple, easy, and won't cost you a penny.
With your affiliate account you can monitor visits to your URL and track the commissions earned over time.

You will receive a recurring commissions of 30% from the amount paid by the people you refer.
For example, if you send us 500 signups with an average monthly fee of $39.99, you will earn $5,998.50 commission EACH MONTH.
We also pay the same commission rate on yearly payment plans.
For example if you refer one yearly plan at $299.99/year, you will earn $89.99/year. Simply refer 25 people each month and you will make a consistent income of $2,249.75/month. You will also receive a commisison when the yealry plan is renewed.
Our retention average is very high so each time you refer a new buying member, you will be building up your recurring commissions even more.
Commissions are paid with a deposit directly into your paypal account every 30 days.
---
Affiliate Resources
We will give you cool banners to put on your website and we will also include valuable tips on how to advertise our services to help you maximize your sales. You will also be able to monitor your affiliate sales in real time from our affiliate portal. Each time you make a sale you will receive an email notifcation.
---
Making Additional Revenue Quickly
Our affiliate program can help you generate an additional revenue stream wihtout spending a dime! In fact it can start generating money for you very quickly especially if you have a large number of friends and followers in your social network. A simple announcement might be all you need to start making extra money.
NEW AFFILIATE SIGNUP
AFFILIATE LOGIN