Need To Import Dropship Products To Your Own Website?
With our datafeed plan you will get all the content you need for selling dropship products
Import to your own shopping cart & to any marketplace sites of your choice

Datafeeds for your dropship business
With our Dropship Datafeed plan you can download over 1.5 Million Dropship Products in CSV files and TAB Delimited files. You can read these files very easily using Excel. These files will include all the data necessary such as SKU numbers, item names, descripitions, categories, brands, manufacturer, retail price, wholesale price, image names, quantity in stock and more. We will also include zip files for all large and thumb images.
We can also create custom feeds with markup configuration or provide you with datafees pre-made for popular third party marketplace sites such as Amazon, Google Base, Bing, Shopzilla, Nexttag, Bonanza, Thefind and more. We can also customize feeds to match the format required by any popular shopping cart. We can create any feeds in any formats of your choice.
Download clean CSV files with data from all our integrated suppliers
You can use our datafeeds to import products into your own shopping cart should you decide to host your own website. For example if you are using OSCommerce or ZenCart or OpenCart you will need a datafeed to import products to your site. We can support any type of feed for any type of shopping cart.
Datafeeds can also be used to push products to various marketplace websites such as Amazon and Bonanza. We can support any type of third party marketplace website.
You will have access to ALL our CSV files (one per supplier). We also provide the same feed in a TAB delimited format so you can choose which one you prefer. We also include a ZIP per supplier with all medium & large images.
You can also order custom feeds for markerplace websites and popular shopping carts. These feeds are referred to as Custom Feeds. You will get up to 3 free custom feeds with your datafeed plan. Additional custom feeds will be $8.99/month for daily updates.
We can also create customized feeds according to your own specifications. This is usefull if you have unique requiments for your feeds. Customized feeds have a one time setup fee of $79.99 and $8.99/month for daily updates.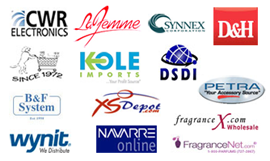 Download Product Descriptions & Images from ONE single place!
Downloading product data from many dropship suppliers can represent a chanllenge since suppliers all use different ways to convey their data. Some suppliers use XML, TAB files, ZIP files, FTP logins, emails with excel files, manual downloads, etc.
Product images are also a big headache. Suppliers normally have different sizing standards so your images won't have a uniformed size if you are selling products from multiple suppliers.
Fortunately wholesale2b resolves all these issues for you. We provide you with clean CSV files & standardized images sizes (medium & large). All our feeds are automatically updated on a daily basis which includes inventory updates, out of stock and new products. Our feeds include all the data you need for each products including the categories.