09/18/2018 - DROPSHIP SHOPIFY PLAN - NEW FEATURE ADDED TO CHOOSE TO UPLOAD ONLY IN STOCK PRODUCTS
Today we have added new feature let you decide the upload of in stock products only to your shopify store. This option was often requested by Shopify store owners and we are glad to make this new feature available to all Wholesale2b members under our Dropship App for Shopify.
You will find the new option titled "Upload only instock (regardless of quantity) products to shopify?" on options page. To access this place just go to the Shopify App page and click on the "options" link located at the top of the list.
See screenshot: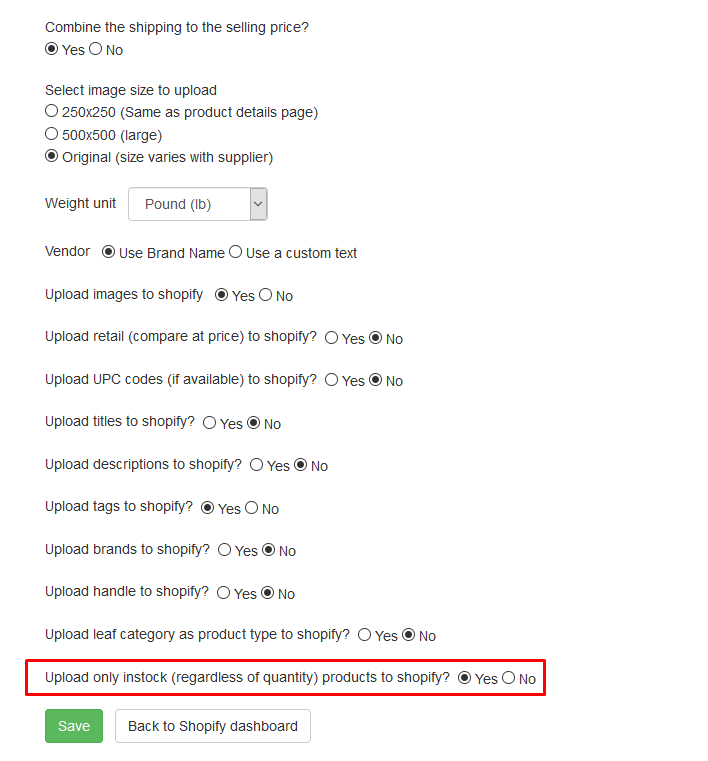 Little background: We have some suppliers that provides only status of the products but no inventory quantity. It was impossible to control what to upload on store, as the quantity filter skips products with no quantity (even if they are in stock). Now you can turn on this new setting and only instock products (even if the supplier do not provide quantity) will be uploaded to your store.
NOTE 1: All out of stock products will be removed from your store. Those will be still there in your w2b shopify list however they will be removed from your store when this option is turned ON. If you like, you can delete all such out of stock products from your list as well simply by clicking delete products link located at the top of your list.
NOTE 2: If you have customized many items on your list, such as changing titles or descriptions, and you don't want to loose those changes, then its best to leave this option OFF.