06/05/2019 - AMAZON PLAN - NEW FEATURE TO CHECK ORDER DIRECTLY FROM AMAZON
We added a new feature to help members quickly find the status of their Amazon orders. This feature can be very useful when you get new orders and they are missing from your Wholesale2b account. In this case you can use this new feature to quickly check why the order is missing.
To access this new feature click YOUR ORDER HISTORY button from dashboard. See screenshot

Then click on "Search amazon order link" under "AMAZON ORDERS" box. See screenshot

Then you will see a modal box, with input box to enter the amazon order number. Enter your amazon order number and click Get Order Details button. See screenshot

Amazon order details will be fetched from amazon website and displayed below. Were you can notably check Order status and Item SKU in order. See screenshot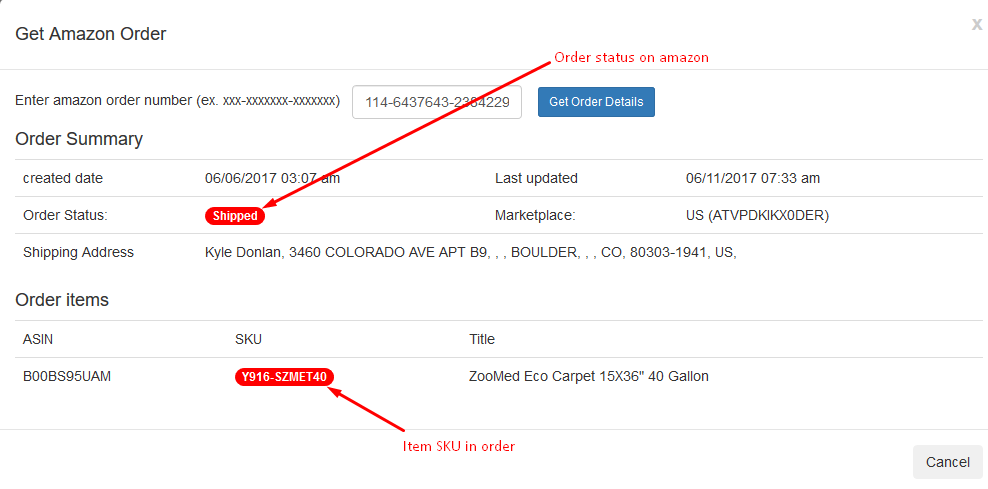 In order to import order to wholesale2b the order status must be unshipped. If order is Unshipped status then you may click on the link "Click here to import the order to wholesale2b." to request system to import order.
Also the item SKU in order must be in format
- for example Dollardays supplier id is D970 & SKU is 12345 then the SKU you should see in order D970-12345. If the item SKU in amazon order does not match with wholesale2b catalog then the order will not be imported. Since the item is not uploaded by wholesale2b and does not match with wholesale2b catalog.