01/02/2017 - MAP YOUR STORE CATEGORIES WITH CATEGORIES FROM THE DROPSHIPPERS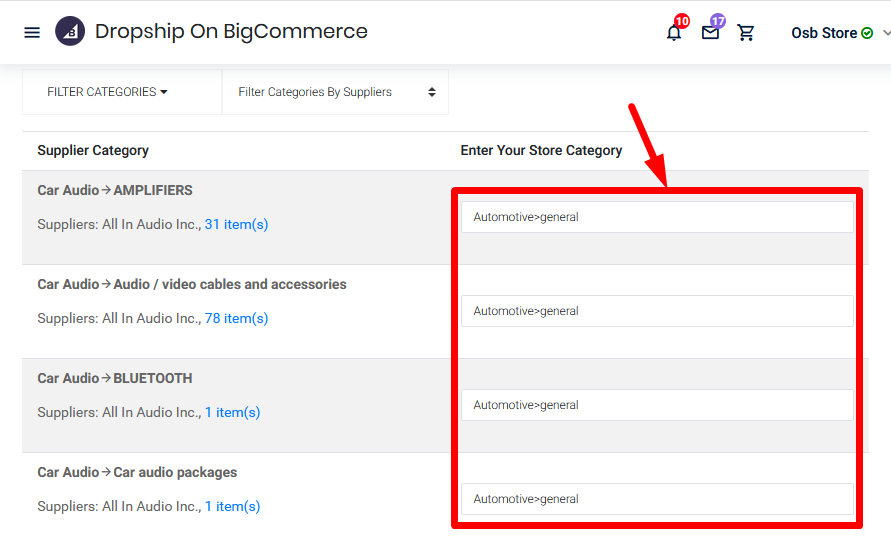 Today we added a new category mapping feature to our
BigCommerce Dropshipping App
and to our
Shopify Dropshipping App
.
Now you can use this new feature to control the category names that will be used in your store. You can also map the supplier categories to match the existing categories from your store if you wish to avoid new category names.
This is a great feature as it will allow you to control the product categories in your store. Many suppliers use category names that you might not like or would prefer to combine into your own set of categories. This tool will allow you to do just that. If you do not perform any category mapping, then our App will push the supplier categories as default to your store.
To access this new feature, just login to your Wholesaler2b account and go to the Dropshipping App page. Then click on the link CATEGORY MAPPING located at the top of your list. This will take you to a page where you will see the list of supplier categories with input boxes on the right side, which you can use to input your own store categories. As a result our App will use the categories you input in this screen instead of the supplier categories while importing the products to your store.
You can read more about our Dropshipping Apps for both BigCommerce and Shopify with the links below:
Dropshipping App for BigCommerce =>
http://www.wholesale2b.com/dropship-bigcommerce-plan.html
Dropshipping App for Shopify =>
http://www.wholesale2b.com/dropship-shopify-plan.html